Multipure Aquamini Counter Top Water Filter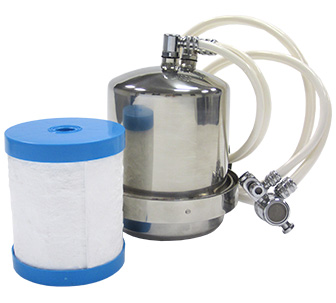 ALL OF OUR CARBON BLOCK WATER FILTER SYSTEMS
ARE NSF CERTIFIED TO REDUCE OVER 65 CONTAMINANTS -
MORE THAN ANY OTHER CARBON BLOCK FILTER!

The Multipure Aquamini  Countertop Water Filter System is great for business people or others who would like to carry their water filter from place to place as they travel, for students who change homes often, or for anyone else who wants to be able to easily carry their filter system from one residence to another. The Aquamini is super easy to install and requires no drilling or plumbing. In fact anyone can install it in just a few minutes!

Note that all our water filters have the same basic carbon block filter except for our Aquaperform (for those who need to filter arsenic) and the AquaRO for those who want to filter more impurities at the expense of also removing the healthful minerals. The Aquamini uses the same filter formula as our other NSF Certified carbon block filters. However it has not yet been NSF Certified.

Due to the smaller size of the Aquamini, the filter cartridge must be changed twice a year instead of once a year like our other carbon block filter models.

That said, the Aquamini has the same 90 Day Money Back Guarantee, the same Lifetime Warranty on the housing, and is made in the same U.S. factory as all our other filter systems and is expected to perform with the same quality and reliability.

If you want to see our Multipure comparison chart that shows you the differences between all our models at a glance, please click here.

This stainless steel model sits on your counter next to the sink and is connected with a hose and diverter valve to your existing faucet. It is the smallest filter system we offer and since the filter is smaller it has to be changed twice a year instead of once a year like all our other carbon filter systems.

Since the filter replacement is $44.95 and it has to be replaced twice a year, I recommend spending more to get the Aquaversa or Aquadome that only requires one filter per year at $69.95. In the long run the Aquaversa will be cheaper due to the savings on filters, plus it is more convenient to change a filter only once per year.
However the advantage of the Aquamini is that it is smaller, and easy to travel with.
Since the Aquamini has not yet been NSF Certified we cannot make accurate claims regarding the contaminants it removes, as we can with our other filter systems.
However, since it uses the same formula for its carbon block filter as our other NSF Certified filter systems it is expected to have the same performance specifications.
We stand behind all of our filter systems  with a 100% Satisfaction Guarantee!
If you are unhappy for any reason within 90 days you can return your purchase for a full refund (minus shipping cost)!
And all of our filters come with a LIFETIME WARRANTY on the housing!
This means that if you keep your system maintained you will never have to buy another filter system - all you have to do is change the cartridge once a year!*
*Except for our AquaRO reverse osmosis system which requires more frequent filter changes due to its more stringent filtering.
BUY AQUAMINI
COUNTER TOP MODEL NOW!
Only $169.95
[wp_cart_button name="Aquamini Counter Top" price="169.95"]