Multipure Aquaversa Inline Water Filter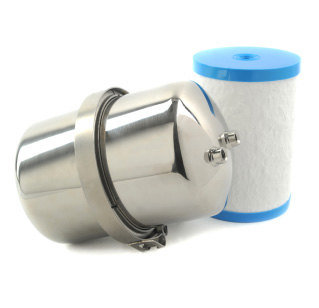 ALL OF OUR CARBON BLOCK WATER FILTER SYSTEMS
ARE NSF CERTIFIED TO REDUCE OVER 65 CONTAMINANTS -
MORE THAN ANY OTHER CARBON BLOCK FILTER!

The Multipure Aquaversa Inline Water Filter System is recommended for use with an icemaker, water cooler or in the situation where a separate water faucet for filtered water already exists.

The Aquaversa has a stainless steel housing and is designed with versatility in mind. The "Inline" models are designed to be connected inline with other existing hardware such as an existing drinking water faucet (aside from the regular faucet), an ice maker, water cooler and so forth. This unit does not include any specific installation parts other than a mounting bracket. This is for people who have already had a water filter hooked up or for a special installation such as with an ice maker or water cooler.

An optional acrylic base can be purchased separately should you ever want to use it as a counter top system instead of a below the sink system.
Note that all our water filters have the same basic carbon block filter except for our Aquaperform (for those who need to filter arsenic) and the AquaRO for those who want to filter more impurities at the expense of also removing the healthful minerals.
There is no difference between the Aquaversa inline model and the Aquaversa below the counter model except that this one is designed to be used with existing hardware  that you may have used with another water filter. This filters the the same contaminants in the exact same way as the Aquaversa counter top and below the counter filter systems do.
To compare which contaminants are filtered between the various models please click on this link to see the water filter comparison chart which includes comparisons between the Aquaversa, Aquaperform, and Aquadome water filter systems.
This unit may be converted to a counter top system with the optional acrylic base. The filter life/capacity is approximately 750 gallons and must be changed at least once a year like all our systems except for the Aquamini which requires a filter change twice a year and the Aqua RO Reverse Osmosis system which has some filters that need to be changed every 3 months.
We stand behind all of our filter systems  with a 100% Satisfaction Guarantee!

If you are unhappy for any reason within 90 days you can return your purchase for a full refund (minus shipping cost)!
And all of our filters come with a LIFETIME WARRANTY on the housing!
This means that if you keep your system maintained you will never have to buy another filter system - all you have to do is change the cartridge once a year!*

*Except for our AquaRO reverse osmosis system which requires more frequent filter changes due to its more stringent filtering.
BUY AQUAVERSA BELOW SINK
INLINE FILTER MODEL 750SI NOW!
Only  $359.95
[wp_cart_button name="Aquaversa Below Sink Model 750SI" price="359.95"]