Multipure Aquaversa Countertop Filter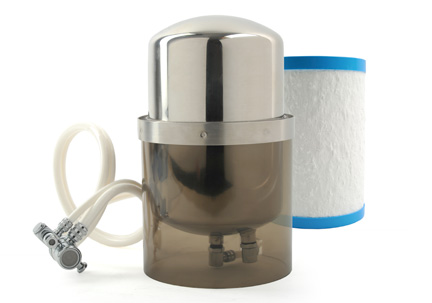 ALL OF OUR CARBON BLOCK WATER FILTER SYSTEMS
ARE NSF CERTIFIED TO REDUCE OVER 65 CONTAMINANTS -
MORE THAN ANY OTHER CARBON BLOCK FILTER!

The Multipure Aquaversa Countertop Water Filter System is recommended for anyone who wants a water filter that sits on their counter as opposed to one that is hidden away under the counter.
There are many reasons why one may choose to have a countertop system but the most common one is if you are renting an apartment so do not want to get involved with plumbing or possibly drilling a hole in your sinktop (in the case there is not one already there).
Note that all our water filters have the same basic carbon block filter except for our Aquaperform (for those who need to filter arsenic) and the AquaRO for those who want to filter more impurities at the expense of also removing the healthful minerals.
There is no difference between the Aquaversa countertop model and the Aquaversa below the counter model except that one is designed to be hidden away below the counter and the other sits on top of the counter. They filter the exact same contaminants in the exact same way.
To compare which contaminants are filtered between the various models please click on this link to see the water filter comparison chart which includes comparisons between the Aquaversa, Aquaperform, and Aquadome water filter systems.
This stainless steel model sits on your counter next to the sink and is connected with a hose and diverter valve to your existing faucet. May be converted to below-the-sink unit with purchase of conversion kit. Filter life/capacity is approximately 750 gallons.
We stand behind all of our filter systems  with a 100% Satisfaction Guarantee!
If you are unhappy for any reason within 90 days you can return your purchase for a full refund (minus shipping cost)!
And all of our filters come with a LIFETIME WARRANTY on the housing!
This means that if you keep your system maintained you will never have to buy another filter system - all you have to do is change the cartridge once a year!*
OUR WARRANTY FOR VIEWING OR DOWNLOAD
*Except for our AquaRO reverse osmosis system which requires more frequent filter changes due to its more stringent filtering and the Aquamini which requires 2 filter changes per year.

BUY AQUAVERSA COUNTER TOP
MODEL 750SC NOW!
Only $399.95
[wp_cart_button name="Aquaversa Counter Top Model 750SC" price="399.95"]